MINI-GUNCO
---
1.  SOFTWARE
---
1.1  Command line options
---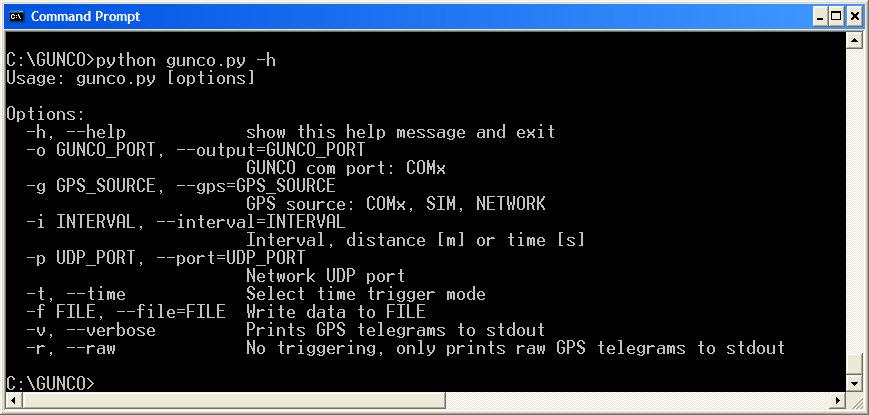 1.2  Normal mode
---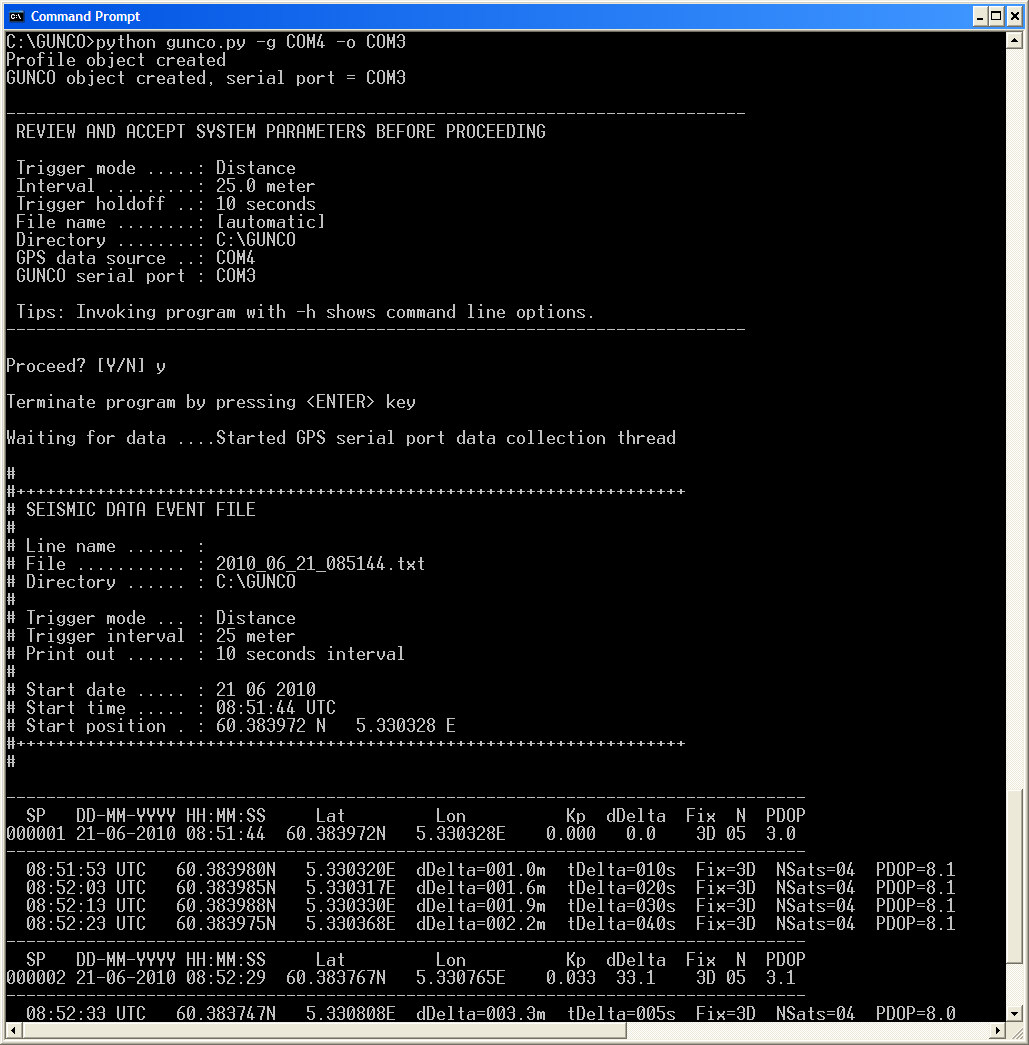 1.3  Debug (Verbose) mode
---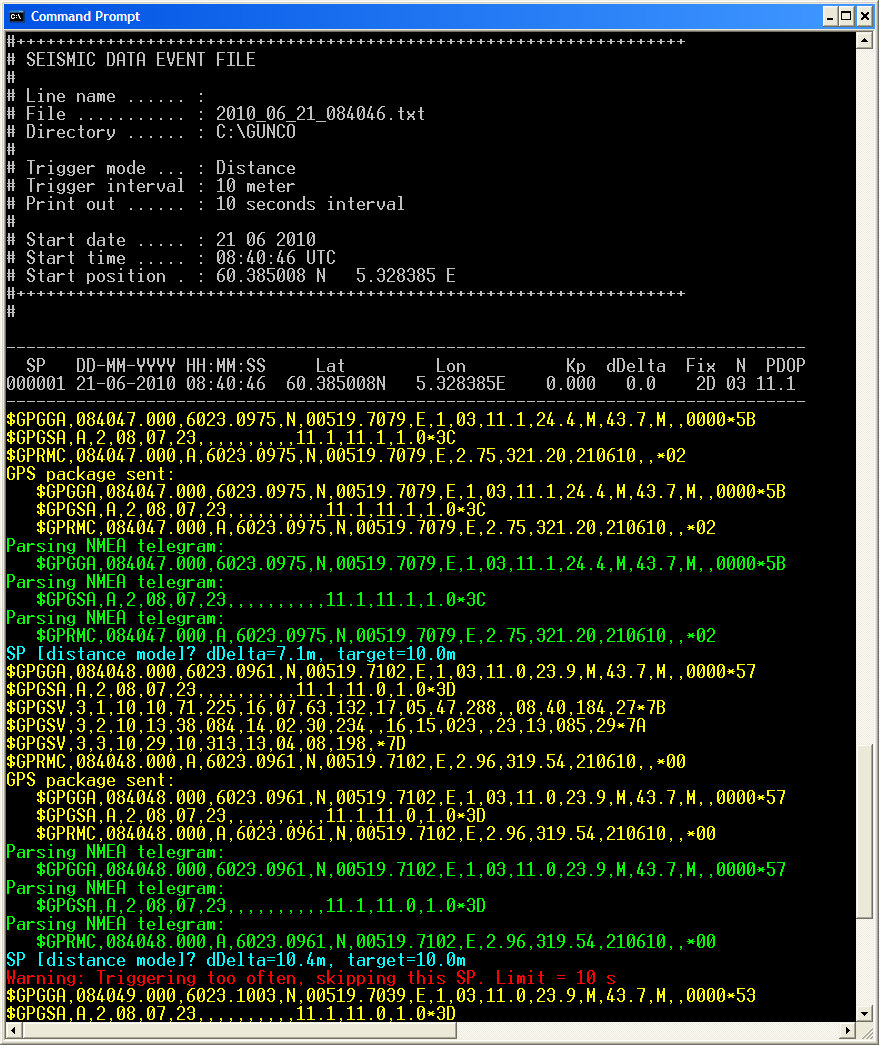 1.4  Raw data mode
---
The "raw data mode" is for debugging GPS serial input, and processing of these data.
GPS telegrams used in the program is extracted from the GPS data stream and dumped to screen. In addition, the telegram package forwarded for further processing is displayed, and also processing of each element of the package. By "telegram package" we mean all telegrams associated with a given second.
The system does not trigger the GUNCO in this mode.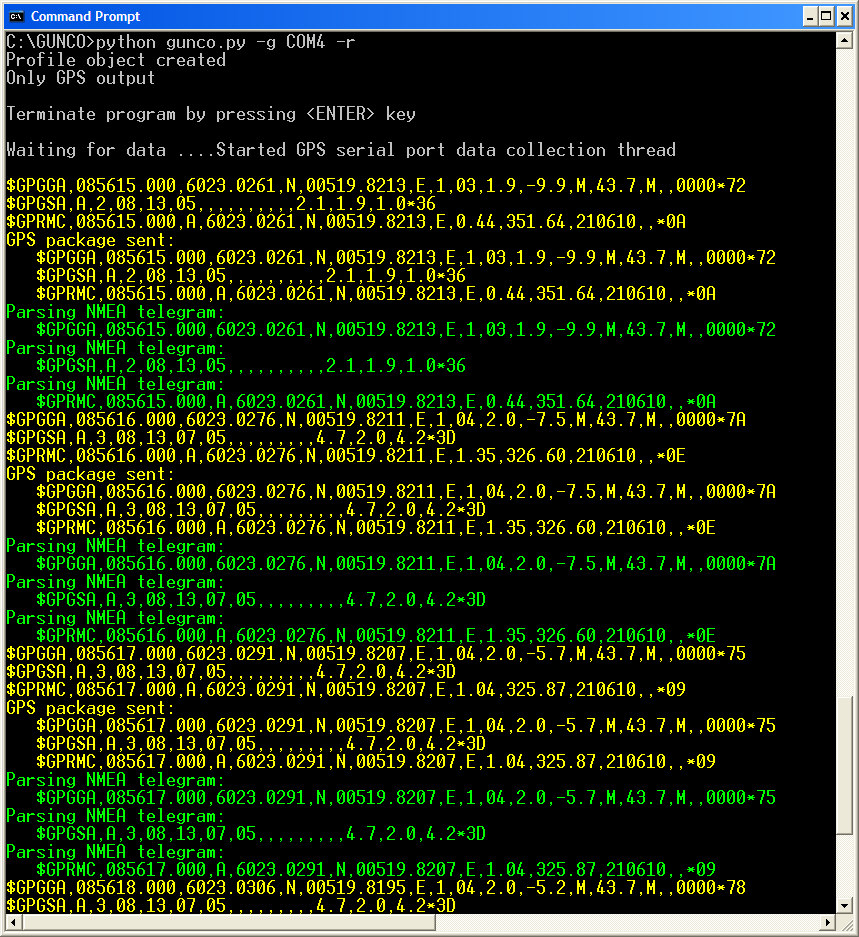 System in raw data mode.
2.  HARDWARE
---
The Mini-GUNCO can be controlled through a computer serial port. COM port DTR & RTS lines are used to fire the airguns, according to this table:
   DTR -> GUN1 -> fire from 0 to 1 state
   RTS -> GUN2 -> ---"---

There is a wiring harness connection three units: PC, Mini-Gunco and GEODE. The aim is to fire airguns and trigger the seismic data collecting unit (GEODE) at the same time.
A loopback between RS-232 RX and TX inside the Mini-Gunco permits auto-decetion of Gunco presence on a specific COM port.
Refer to more detailed description here: http://www.geo.uib.no/eworkshop/GreenICE/#Instrumentation
2.1  Wiring harness between PC-serial_port / Gunco / Geode
---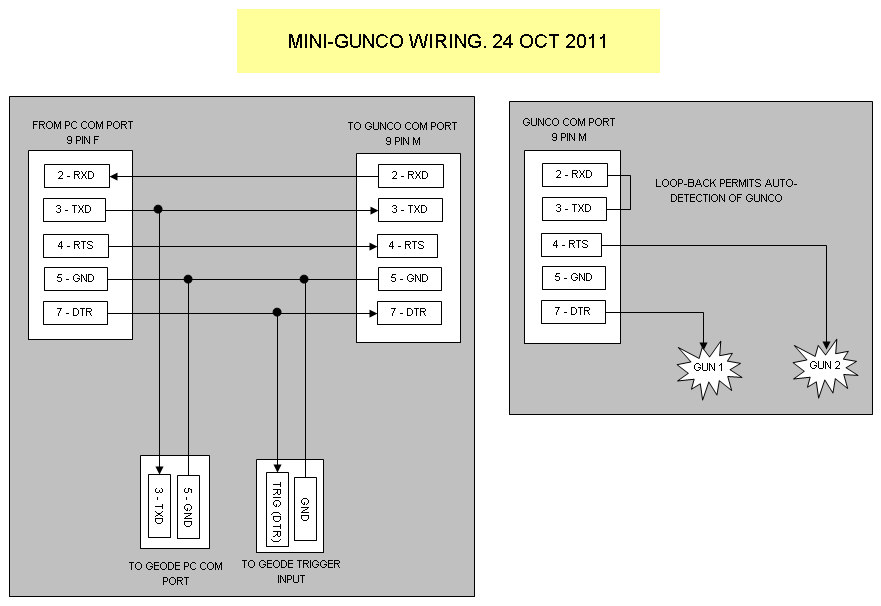 Mini-Gunco wiring. Wiring harness and part of mini-Gunco internal wiring shown. (mini-gunco-wiring-24Oct2011.xls)
2.2  Modifications 2010
---
The Mini-Gunco was modified for 12/24 Vdc operation in May 2010.
DC/DC-converter used:

Input: 9-36 Vdc
Output: 48 Vdc
Max O/P current: 1.6 A
Power Rating: 75W
Mfr: TracoPower
Mfr P/N: TEP 75-2418WI
Supl: http://www.farnell.no
Supl P/N: 177-2230
2.3  Modifications 2011
---
RX-to-TX jumper in RS-232C connector, so that data sent (intended for Geode consumption) is also received by this loop-back, so we can detect presence of GUNCO on a specifig COM-port.