RADAR & PLOTTER
---
The vessel is furnished with a Furuno Radar Plotter mod M-1824C (must be verified).
Max range: 72 nm
Series VX2
 Some notes on:

Downloading track data
Using GPS data re-transmitted by the unit.
Downloading track data
---
Seems that track data can only be transferred via SD memory card. Data is binary coded (cannot be read in ordinary editor). Original filename was GP1650B.TRK; renamed GP1650B.TRK.txt.
Memory card must be Secure Digital (SD) type - not Multi Media Card (MMC).
Using retransmitted GPS data
---
GPS data is re-transmitted on the DATA 4 port at the rear side. Suitable interface cable:
Product = "NET-DWN-CBL"
Desc: "NAVNET PC DATA BACK-UP CABLE
Setup of Radar/Plotter:
Menu -> System Configuration -> System Setup -> Port Setup -> DATA4:PC/NMEA/EXT. BUZZ PORT
Chose SELECT SNTNC
Enable only GLL and RMC
This is what you then get: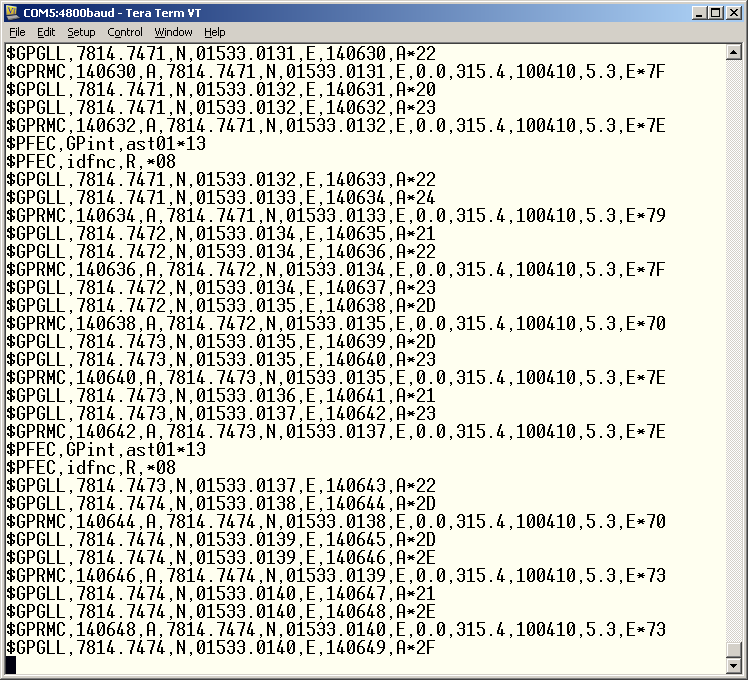 Example data capture port DATA4 on Rader/Plotter.